Blue Pearl ®
Blue Pearl® belongs to the Pearls Collection: Pink Pearl, White Pearl and Purple Sensation®.
Blue Pearl® can be used in multiple ways: i.e. outdoor gardening/container planting and for professional forcing. Given the correct treatment Blue Pearl® can be used for various forcing applications: i.e. single bulb and multiple bulb pot applications for both full grown specimens as well as newly sprouted plants. Important is also that the P-line can be used for relatively early and late forcing and anything in between.

For forcing use the following scheme. The time given is in weeks at 9ºC or 48ºF
Planting date and number of weeks in cooling.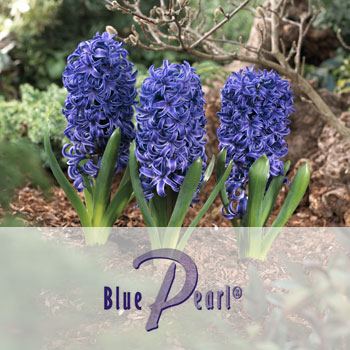 September 15th 11 weeks
Oktober 15th 10 weeks
November 15th 9 weeks
December 15th 8 weeks

Temperature advice

For early forcing(s) use 23ºC to 25ºC (73ºF to 77ºF)
For January use 20º C to 23ºC (68ºF to 74ºF)
For February till April use temperatures between 19º C and 22ºC (66ºF and 72ºF)

Blue Pearl® Is ideal for greenhouse forcing. The P-line has for over 80 years held an unequalled reputation with respect to quality and application.


The growers of the varieties protected by Breeders Rights are united in the breeders' organization Blue Pearl, P.O. Box 6, 2160 AA Lisse, the Netherlands.

For more information and availability of these versatile hyacinths please contact your supplier or send an e-mail to: info@bluepearl.nl